Description
The Mars Reflector LED Grow Light series of lights are powerful 5 watt LED based units featuring a custom spectrum diffuser to maximize energy efficiency and coverage area. The compact design, cool operating temperatures and extra-large coverage area makes this series great for small growing areas where there is limited space. The Mars Reflector also feature a "Grow & Bloom" switch for maximum control and energy savings. Choose from Growth and Seeding mode(Veg) or Bloom mode.
LEDs use less power (watts) per unit of light generated (lumens) and produce less heat than other lights. LEDs help reduce greenhouse gas emissions from power plants and lower electric bills. LEDs have an average lifespan of 50 000 hours compared to CFLs average lifespan of 8 000 hours.
Extreme LED power at unbeatable value.
The Mars Reflector series is the most efficient and cost effective model we offer. Experience impressive results with your harvests. An impressive option for those seeking to get maximum coverage & output per watt, these unit's performance will exceed your expectations!
The Mars Reflector 144 LED Grow Light Features:
| | |
| --- | --- |
| LED Diode Brand: | Epistar™ (HI-LED) High Intensity |
| Power Consumption: | 240 V: 291.2 W±5% |
| Operating Requirements: | Input voltage: 85 V – 265 V Amperage: 1.436 A @ 240 V |
| Coverage Area: | Flowering: 60 cm x 120 cm | Veg: 75 cm x 135 cm |
| Hanging Distance: | Seedling: 60 cm – 76 cm | Veg: 40 cm – 60 cm | Flower: 30 cm – 40 cm |
| Max yield: | 1.5 g/watt |
| Included Hanging Accessories: | Clasps |
| Product Dimensions: | 83 cm x 26 cm x 6 cm |
| Product Weight: | 6.68 kg. |
| Operating Temperature: | -20°C – 40°C |
| BTU: | 706 |
| Decibel Value: | 61 |
| Plug Type: | SA |
| Warranty: | 3 years |
| Peak PPFD Value: | 775 uMol/m2/s |
| Compare to HPS/MH/HID: | 350 watt |
| LED Lens Degree: | 90° – 120° |
| LED Diode Count: | 144 Pieces |
| Spectrum: | 440 nm, 460 nm, 630 nm, 660 nm, 730 nm (IR), 2 700 K – 3 000 K |
Mars Reflector 144 PPFD Chart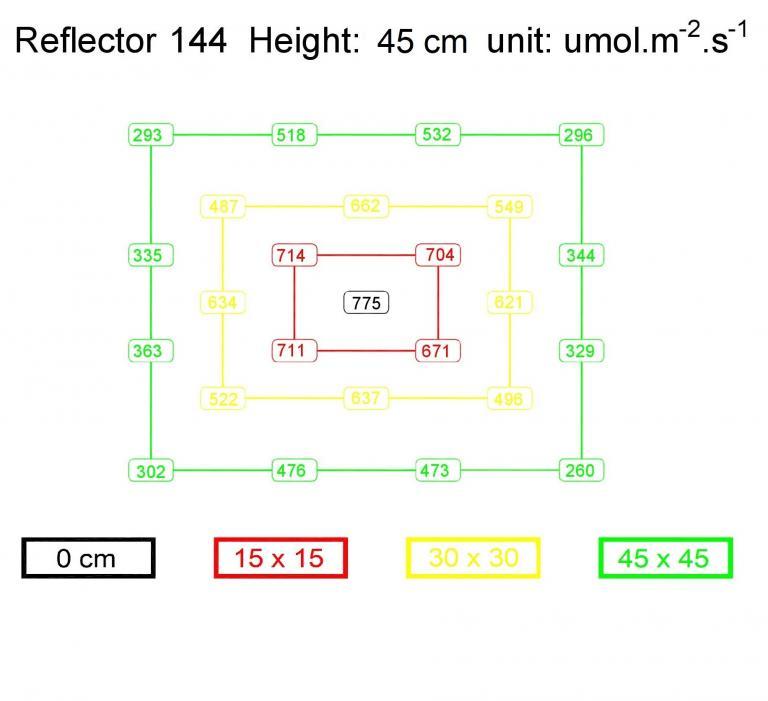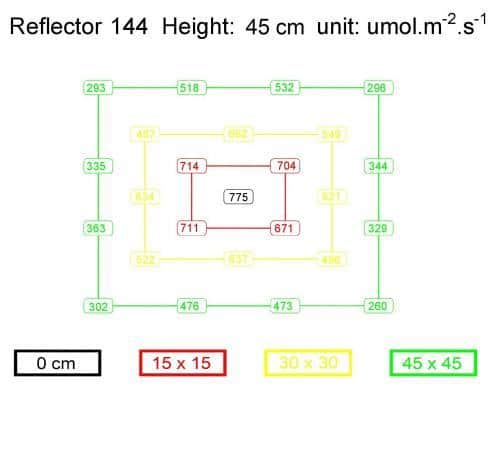 Switchable Growth-Mode design for maximum control
Take control of your garden with the dual switch design offered on all Reflector series models. Choose from Growth and seedling mode (VEG) or full Bloom mode. Maximize energy savings and control the spectrum output with the push of a button.
Spectra Reflector system.
The Mars Reflector series features an Epistar, 5 W – single chip design with a patented reflector system to create the largest coverage area possible without sacrificing performance. With Blazing 5 watt LEDs and a light redirection system, you can get the largest coverage area per watt at the best possible price!
Premium Epistar LEDs offer a long lifespan
Grow for years to come without having to replace your lighting system. 100% Plug & Play with no additional equipment to buy. The Mars Reflector series grow lights are rated at 100,000 hours of use or more. Rugged case design, heavy gauge heat sinks, dual ball bearing fans and quality Epistar LEDs all come together creating a powerful and long lasting grow light .
Versatile for any soil or medium or horticultural environment
The Mars Reflector Series will outperform your existing lighting configuration in your indoor environment. Have confidence in your light source growing in all types of soils hydroponics, aeroponics and more.
Perfect for Grow Tents and other small or enclosed areas
When working in confined spaces you can easily appreciate the compact design, cool operating temperatures and extra-large coverage area the Mars Reflector series offer. At only 2" thick these units can cover an area approximately 4 times its size! Cool operational temperatures keep ventilation requirements at a minimum.
Reliable build quality: 3 year warranty coverage and easy access to parts
Every element that goes into our products must pass a stringent performance and durability test. The Mars Reflector Epistar™ Series features quality points such as: individual power supplies, TOP-BIN Epistar™ (HI-LED), aircraft grade aluminum heat-sinks, dual ball bearing fans, steel casing, Premium copper internal wiring and power cord. Following strict development guidelines and quality engineering is how we can offer such an extensive warranty on every grow light we carry. Buy with confidence, buy Mars Hydro.