Description
The Mars Pro II series is an incredibly powerful and reliable LED grow light. As a re-invented version of our original Mars Pro series, it has been upgraded to true 5 watt high intensity LEDs. The Mars Pro II Series offers an extremely hard punch for a very affordable price.
LEDs use less power (watts) per unit of light generated (lumens) and produce less heat than other lights. LEDs help reduce greenhouse gas emissions from power plants and lower electric bills. LEDs have an average lifespan of 50 000 hours compared to CFLs average lifespan of 8 000 hours.
Extreme LED power at unbeatable value.
 The Mars II Pro Cree 256 LED Grow Light Features:
| | |
| --- | --- |
| LED Diode Brand: | Cree™ |
| Power Consumption: | 240 V: 547.7 W ± 5% |
| Operating Requirements: | Input voltage: 85 V – 265 V Amperage: 2.8 A @ 240 V |
| Coverage Area: | Flowering: 120 cm x 120 cm | Veg: 135 cm x 135 cm |
| Hanging Distance: | Seedling: 60 cm – 76 cm | Veg: 40 cm – 60 cm | Flower: 30 cm – 40 cm |
| Max yield: | 2.0 g/watt |
| Included Hanging Accessories: | Clasps |
| Product Dimensions: | 57 cm x 53 cm x 12 cm |
| Product Weight: | 17 kg |
| Operating Temperature: | -20°C – 40°C |
| BTU: | 1 746 |
| Decibel Value: | 61.4 |
| Plug Type: | SA |
| Warranty: | 3 years |
| Peak PPFD Value: | 1 300 uMol/m2/s |
| Compare to HPS/MH/HID: | 700 watt |
| LED Lens Degree: | 100° |
| LED Diode Count: | 256 Pieces |
| Spectrum: | 440 nm, 630 nm, 660 nm, 2 700 K – 3 000 K |
Mars Pro II Cree 256 PPFD Chart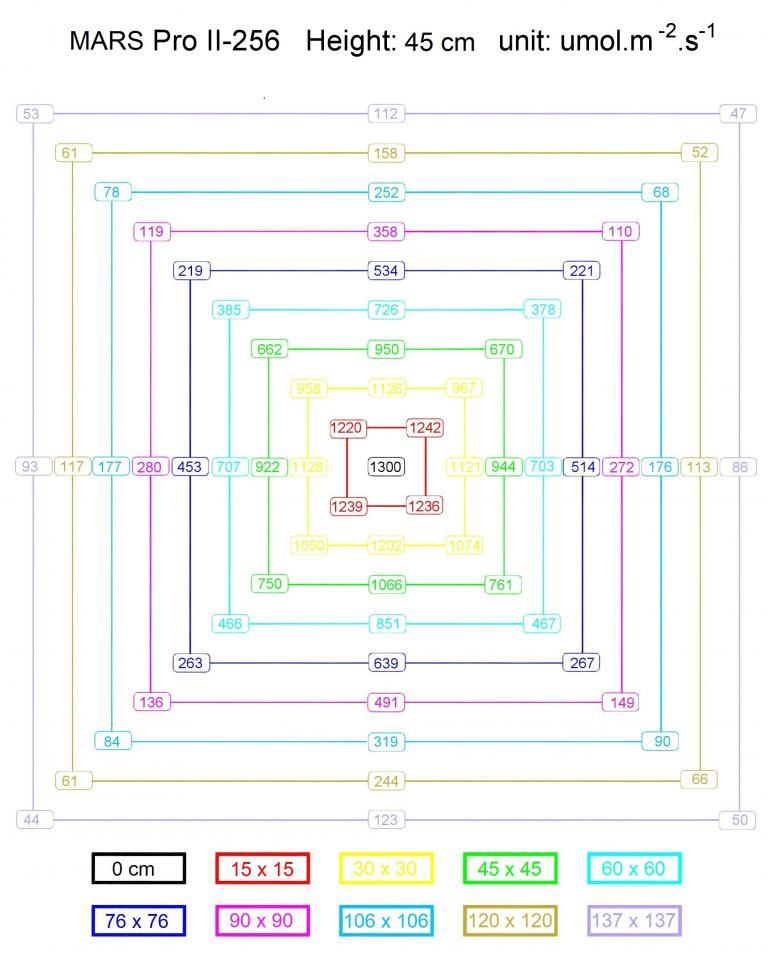 Easily scalable for Commercial growers and large operations
The Mars Pro II series comes in a variety of sizes to meet virtually every growers needs. With so many size options the Mars Pro II makes a great commercial light for scalable operations. The standard design not only makes configuring multiple light layouts easy but also simplifies the user maintenance and configuration.
Maximum power at a great value
The Mars Pro II Series is built with the commercial grower in mind. Featuring a user friendly "Full Spectrum" design, you can easily grow your plants in any growth cycle required. Packed with the Next Generation 5 watt Epistar™ High Intensity LEDs you can be sure the intensity is sufficient throughout the full coverage area of the light.
Premium Cree LEDs offer a long lifespan
Grow for years to come without having to replace your lighting system. 100% Plug & Play with no additional equipment to buy. The Mars II series grow lights are rated at 50 000 hours of use or more. Rugged case design, heavy gauge heat sinks, dual ball bearing fans and quality Cree LEDs all come together creating a powerful and long lasting grow light .
Versatile for any soil or medium or horticultural environment
The Mars Pro II Series will outperform your existing lighting configuration in virtually every horticulture environment possible. Have confidence in your light source growing in all types of soils, hydroponics and more.
Reliable build quality: 3 year warranty
We manufacture our own Grow Lights. Every element that goes into our products must pass a stringent performance and durability test. The Mars II Pro Cree™ Series features quality points such as: individual power supplies, TOP-BIN Cree LEDs, aircraft grade aluminum heat-sinks, dual ball bearing fans, steel casing, Premium copper internal wiring and power cord. Following strict development guidelines and quality engineering is how we can offer such an extensive warranty on every grow light we carry. Buy with confidence, buy Mars Hydro.