We did a cost analysis for doing cannabis potency testing with different products and services available in South Africa. tCheck easily offers the best value for money for the home grower or edibles chef.
The data is based on readily available information:
The services provided will never be suitable to a small scale operation and a tCheck has a lower cost per test from the first test. Services will not be not be considered further due to the increasing cost per test as shown in the figure below. The figure also shows that the initial cost of the GemmaCert is orders of magnitude more expensive than any other products.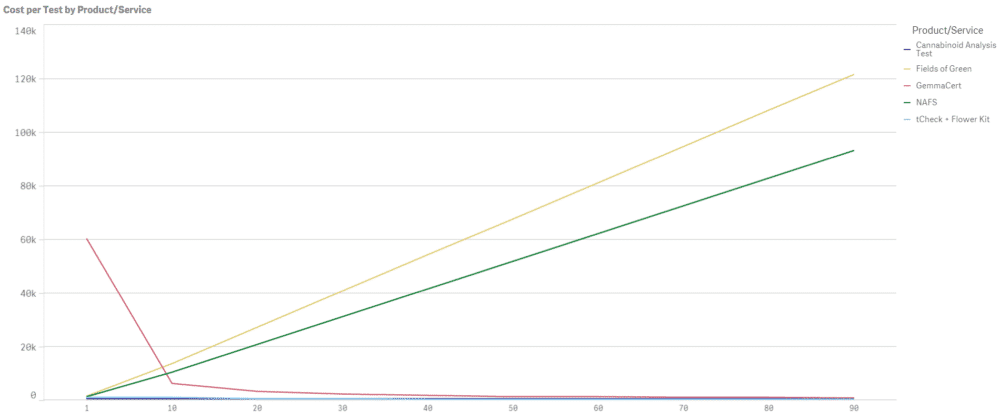 The GemmaCert has a better cost per test than the Cannabinoid Analysis Test Kit the after about 200 tests and starts to come close to the tCheck above 300 tests.
The comparison is on cost only and does not consider functionality or features. Make sure you get the features you need at the right price.
From seed to sale, tCheck will tell you the potency
Thousands of cannabis professionals are testing their infusions, flower, and concentrate with tCheck.
Move fast – 60 seconds to test your infusions. 5 minutes to test your flower and concentrates.
Spare your wallet – Knowledge shouldn't be expensive, tCheck is an affordable solution.
Start testing in mins – Designed for everyone, tCheck is easy to get up and running.
Collect live readings of your sample in minutes using the tCheck and your phone. Test infused olive oil, coconut oil, alcohol, or butter for THC, THCa, or CBD. Properly test flower and concentrate potency using the flower and concentrate expansion kit. Each item included has been carefully selected to ensure the highest level of testing accuracy.